Because you didn't ask, here is a fieldtrip into my brian on a sick day, when I have lots of time to think:
Cook Out. It's a fast-food chain. It's awesome. But seriously. $4.69 for a jumbo sized sweet tea, a grilled chicken sandwhich BBQ style, a side of hushpuppies, and another side of a chicken wrap. Yes, a chicken wrap. Also yes, a chicken wrap could be an entire separate meal but they have ridiculous choices for sides like: a quesadilla, a chicken wrap, a corn dog, a hot dog. Also they have that really good crushed ice that tastes like a slushie. And John 3:16 is on all of their styrofoam cups. Check it out here:
http://www.cookoutnc.com/
My venti soy vanilla latte is $4.69. Sheesh. What a deal.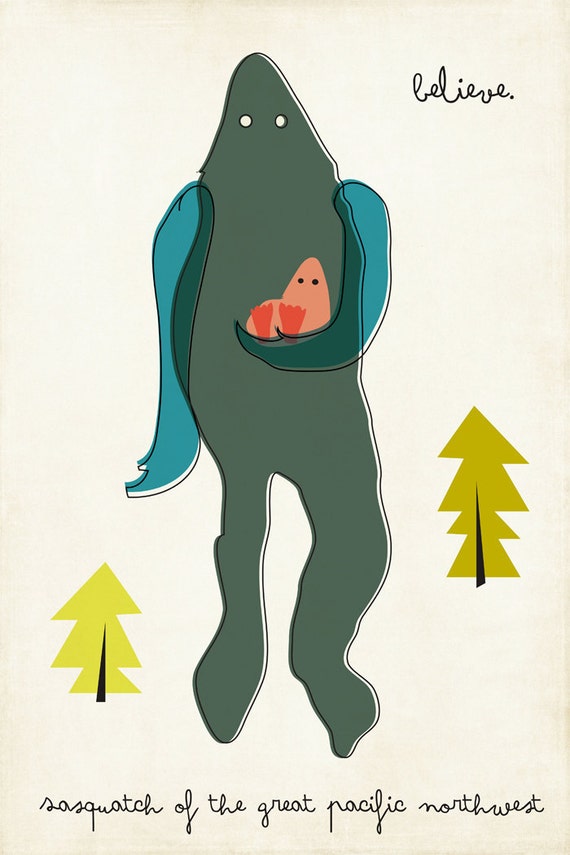 Finding Bigfoot really bothers me. I really want to know if Sasquatch is real but they literally never find anything convincing. Why don't they just use all of the money they get from the show to put tracking cameras in every single forest instead of relying on their little cameras. Am I right? Seriously. I just want to know already. This thought made me search Etsy for Sasquatch related items, of course. I came across the neatest shop:
ShopAmySullivan
where you can find the print to the right. LOVE it.
Moving on, next thought - What's going to be the next popular color for weddings and baby showers? Blush and ivory or blush and grey are popular and my yellow and grey items are really popular right now, but I want to start making things for the next popular color pattern...no idea what it will be.
My 11 year old sister-in-law showed me this music video and I'm so mad at her for doing so.
http://www.youtube.com/watch?v=jofNR_WkoCE
I mean seriously? What on earth? In case you're wondering, I can make all of the sounds they make in this video.
I met a lady who works at the post-office who said she met JFK when he came to drop off mail when she worked in NYC. He was wearing a mask because he was riding his bike in between all of the taxis. She told him she couldn't process what he requested without ID and without him taking his mask off. Then she found out it was JFK. She told me this because my name is Jacqueline and her daughter's name is Jacqueline and she named her after Jackie O. Anyway, I'm just randomly thinking about that.
I really like Ramen noodles and I wanted some right now, but when you leave them alone for like 30 minutes to an hour they turn into this weird jello. Whenever I see that I hate the fact that I love them.
I think Adam is going to win The Voice this year. Well, maybe Cee-lo. Who knows.
You're welcome.