If you're trying to be unique or different, groomsmen gifts can be tough since guys really just like meat, sports and cool gadgets. Below are my top 7 ideas for groomsmen gifts that aren't flasks or related to alcohol, some of which I knew before our wedding and we used as gifts and others that I've since found out about and really love! I'm a big supporter of Etsy, so I tried to find most of these there. There are a few that I couldn't find *hint there is an Etsy market just waiting out there for ya!*
Here's a picture of the inspiration behind the gifts below. My husband had 8 groomsmen with pretty different personalities and I think the gifts below touch on every one of them.
(All of our wedding pictures are from C&I Photographers,
http://www.c-iphotographers.com/
. I can't recommend them enough!!)
Ok enough handsome-ness for one post. Onto the gifts.
1. Personalized cigar boxes. We actually gave these out as gifts. I loved the mustaches, and they were really simple but a great find. Inside the boxes we put a cigar and the matching tie for the wedding. Even if your groomsmen don't regularly smoke cigars, these boxes are great to use in the future to hold anything - like watches, cuff-links, collar stays, all kinds of weird stuff guys keep on their nightstands, you know.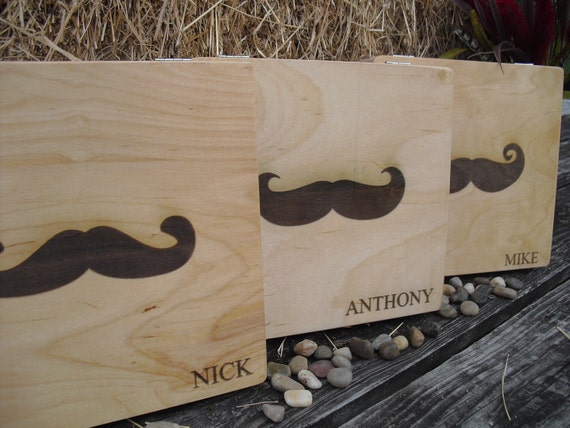 dazzlingexpressions Etsy Shop
2. Speaking of collar stays - I just found out those existed after a few months of marriage. What nifty little things. These monogrammed ones are fabulous and from Etsy. I found out about these after ordering a custom pair for my husband for his birthday. They are a great gift for any guy, I really like them!
3
. Shoes.

The shoes below are the shoes we ordered for the groomsmen in our wedding. Now, yes you might realize I've now already mentioned we bough the cigar boxes...and inside was a tie and a cigar...and now you notice the shoes. So yes, ok, maybe we kind of bought them a lot of stuff - but these are such fun gifts to give and we didn't really regret it until we put down the security deposit on our apartment. Just kidding. We actually were able to buy the shoes at Kohls - and for you Kohls shoppers out there, you know you can really combine some great deals when they have a sale and you have that magic 30% off coupon and Kohls cash. If you want a unique look for shoes on the groomsmen it works both ways if you buy these as a gift, and you'll also know they will be wearing the right thing on the big day ;).
4. Monogrammed steak branders. Seriously, now this is a little over the top...but also pretty sweet. I don't
really like meat but apparently most men do, and as I've recently found out - some still like to eat it bleeding. What? My jaw dropped when my husband and I went to Red Robin to eat last week and he ordered a "Some Pink" burger. What? Why. Anyway, well I've come full circle. If you're going to eat meat, and you're going to eat it rare, might as well put your initials on it. Find them
here.
5. Monogrammed money clips. I really like these that are made out of copper. I also really like monogrammed things. Not overdone, but the only things I own that are monogrammed have been gifts. These are simple and guys can get a lot of use out of these.
6. WOW. A hatchet. If we could do it over again, this would certainly be it. One of our wise married friends told us on our first Christmas, or more-so told my husband that the days of getting gifts for him are over. Every gift we receive as a "couple" are most always going to be for the girl - like a cookbook, or something for the home, etc. So, this amazing man handed my husband a package with his first married man Christmas gift, and also probably the last. A Hatchet. That also doubled as a hammer and something else with a little prong thing on it. Obviously the gift wasn't for me, but he LOVES it. I think every guy would love to get one - as long as they check their bags at the airport on the way home. I don't think TSA has approved hatchets on board just yet... You can see a groom's handmade hatchets at
this blog
.
7. This is amazing. Beard hats would make for a fantastic groomsmen picture. Especially if you included groomsmen gift number 6 & 7 as a combo. There are a ton of variety of these offered on Etsy with different beard colors, styles and hats. Love it.
8. Framed T-shirt from the past: A new addition from the comments section below. If you're anything like my husband and I - we have probably close to a 100 t-shirts, from college days, sports teams, 5k runs, etc. Some of these mean a lot to us but we rarely wear them. For a groom and his groomsmen, he surely has a ton of memories with each of them and likely - accompanied by a t-shirt. If the groom could get his hand on a t-shirt from each of the guys that means something special to the two of them, this could be a really great gift! One company that's new to the scene is
SHART t-shirt frames
. Yes, I laughed out loud when I heard the name - but that's good marketing, isn't it?
The end for now. If you have an idea please comment, I'd love to add more!