Several months ago I posted about a potential shut down of adoptions in Ethiopia or at least changes to reforming their system.When we heard they may shut down to corruption and/or to implement more ethical processes, we were heartbroken. Although this was really frightening for us at the time it also served to open our eyes to the larger orphan crisis in Ethiopia and our place in it.
Once we started this process I felt like we started looking at adoption as a very individualized process - as a set of parents adopting a child. We focused on our one future child, wherever they may be. This isn't necessarily a bad thing, just an observation. When there was talk of shutting down international adoption in Ethiopia - we very clearly related this to OUR future child and that's why it was so scary.
This "scare" caused us to start researching why international adoption in Ethiopia was such a controversial topic. We came across stories of mistreated children and of unethical adoptions that were revealed once the children were home and provided information several years later. Now, there will always be evil in the world and I recognize that. Whatever your search terms are in Google - you'll find it. If you search ethical adoptions you'll find plenty, if you search unethical adoptions you'll find plenty. Our only respite here in searching through the noise of the world is knowing that we are relying on God to lead each step in this journey. Now, we didn't take for granted the information that we were finding or experiencing first hand in reading agency communications and Ethiopian government documents regarding the potential shut down, we recognize that the Lord is capable of revealing information and wisdom to us. Sometimes it can be difficult to discern what is Godly wisdom and what is the "knowledge" of the world. That is where prayer, patience, and not being quick to judge or make decisions are so important.
Now, I don't want you to think this is a pro-adoption, anti-adoption, pro-Ethiopia or anti-Ethiopia post. This is a post about our personal adoption journey and where and how we feel the Lord is moving us and encouraging us personally.
Over the past few months we have felt convicted about our request for a "healthy" infant 0-2 years old from Ethiopia. We can see the unofficial waiting list of our agency and how many families have this same request. We also know that it is a well known fact that many agencies have long lists of families specifically requesting 0-2 healthy infants. Maybe you didn't know this. If we know, and those in the adoption world know, surely those on the ground in Ethiopia know that this is a popular request. Let me also say that many agencies do not allow families to adopt out of birth order and many families are not approved for this - so they can't request anything older than a 0-2 year old child until their children at home are at least 6 months older than this. So, I get that. But for us, that's not the case.
We can't help but feel that being on a waiting list for a healthy infant that is expected to last for 4 years may be contributing to the problem. It is really difficult for us to look at a waiting child list of several children who are older or HIV+ or with developmental delays that are being passed over while parents wait for a healthy infant. Why are agencies still accepting applications from families (like us) who request a healthy infant, when in reality the need is for families that are open to adopt older and/or special needs children? What message are they sending? Maybe it's because once families start the process they often change their request, like we are considering now. I'm grateful we were accepted, I have conflicting thoughts. When we turned in the application I truly believed that there was an immediate need for a healthy infant 0-2. However, waiting 36-40 months means this child isn't born yet. Why then, am I not spending the same amount of money to ensure this child doesn't become an orphan and am assuming that they will become one? It's a convicting question to ask. I also know that not everyone's heart is moved in this particular way and that the Lord has different plans for all of us, I don't question anyone in regards to that or their request. I just pray that families in the process will keep their hearts truly open to the Lord's call to protect and provide for orphans and pray for discernment in determining their path.
When we first started this adoption journey we narrowed it down to two particular agencies we were interested in. The first agency's Ethiopia program was closed but I had a great talk with someone from their agency. They recommended their Bulgaria program. At the time I didn't think twice about this program and we chose the other agency. I honestly don't think we would have started this journey if it hadn't been in Ethiopia and we have learned some very specific things through struggles and steps specific to the Ethiopia process. I also think I would have always second guessed our decision and wondered "well what would it have been like in an Ethiopia program?!" We've been really going back and forth about this decision, but realize that we are slowly being pushed out of the Ethiopia program. Last night we sat at our favorite fast food place, and the only thing in Williamsburg open past 9pm, Cook Out, and talked about the potential move to a Bulgaria program. I specifically felt that we needed to seriously pray about the children on the current waiting list that do not match any family's requests before we'd officially consider leaving. This was a really difficult thing to consider as many of the children have serious medical disabilities, are older and/or are HIV positive. As we sat there discussing, it was amazing to see how much more open we were to different children than our original request of a 0-2 year old infant. This is a perfect example of how important the process itself is. I felt particularly "upset" about one child and I wanted to seriously consider them although their age and medical needs really didn't line up anywhere near to our resources and where we are in life right now. I felt hopeless for this child and felt that we could be their last hope.
We left Cook Out feeling a little confused wondering if our hearts were really stuck on this child for a reason and if so, why, it really seemed impossible. Was this the next step for us in our journey? It was a cold rainy night, really late for our local Williamsburg neighbors, and a van drove by us with the license place BLK SEA. Now, this might not seem like a big deal to any of you, but Bulgaria is on the Black Sea and we really felt really moved when we saw that! (We also joked that maybe their last name was the Blksea's and we'd meet them one day and laugh! :))
At first I was confused again, here we were talking about children who not a single family in our program was currently interested in or able to handle and trying to consider them or find a potential way to make something work, really pushing ourselves to find a way to help these kids, and then we see something leading us in a different direction. What I think was a really important lesson here is that we were starting to think that we could be a child's only hope. That if we didn't get them, they had no chance. This isn't true. We essentially were saying that we didn't think our prayers were enough and that we had to take action in our own hands. Did we not trust that God was taking care of these children or had a plan and family picked out for them? It's hard not to rely on our own "understandings" but that evening's conversations and the license plate we saw really brought a lot of peace to us. We have hearts for the orphans all around the world but we also have complete trust and faith in the Lord that he is watching over each and every one of them and we need to wait patiently for our part in the plan.
Like I said earlier, every part of this journey is part of the Lord's plan for us, our hearts are more open than ever to orphans, whether we adopt from Ethiopia or not, Ethiopia is a big part of our adoption journey. Our little one is out there somewhere -we are praying about where to go or where to stay in order to find them.
We are attending an informational webinar on a Bulgaria program next week. We shall see!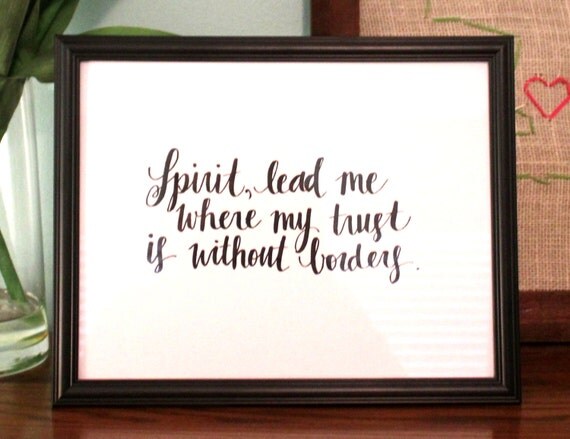 I'm loving this song right now.
And I love to link to Etsy shops.
This print is from:
DesignsbyHilary.