I feel like sometimes when December comes around, people are so ready for a fresh start they start to wish away the end of the year in hopes of a better January where you can start new routines, diets, hold yourself suddenly more accountable ;) etc.
I decided a few weeks ago this was not going to be the case for me. I have some unfinished business and I'm settling into a routine right at the end of 2014. And you know what, I think that's good for 2015! Instead of all the pressure mounting, I'm going to work on strengthening that routine and really establishing it in 2015. You know, until the little one comes and at that point my routine will likely just be hers :)
The first thing I started with seems SO silly. I had been looking around online for Christmas gifts and found so many adorable journals I wanted to get...for myself. Because I justified, well if I get new journals I will get newly organized. Well somehow I controlled myself on that one and decided I was going to find all of the journals in our place right now and vow to use every last page. How many of you have ever actually finished a journal??? I was so surprised at the amount I had, with 10-20 pages of scrawled notes or to-dos that had been cast aside. Again, it might sound so small - but it was my first step. So, you'll be proud to know I finished my first one up, filled with to-do lists, grocery lists, priorities for work, meal schedules, everything in one place. And then, I tossed it. Friends, I've NEVER done that before. You know how great that felt? I saw all of these tiny minute things that had piled up, I stuck with it and filled up a book full of them and then once I had used it, it's done.
I'm now onto journal #2 and about halfway through and this seemingly insignificant routine/goal has made me feel surprisingly accomplished.
All I googled was "finish your journal" and this image popped up - so others must have the same issue ;)
The second goal of mine was to go back through my
She Reads Truth
studies and finish what I didn't start. (Sensing a theme here?) I attended a class through the
Influence Network
about how to just get into God's word - and they specifically marketed it as appropriate for those of us who pick up a million bible studies and projects and don't often see them through. They don't have it up on their site yet for you to purchase an archived version, but when they do I'll pass it along. It was really REALLY great.
So I'm working on the Advent study and the study in 1st & 2nd Peter at the same time:
The third goal of mine is to actually spend time planning the week's meals. I have this
printable, and others from Joyful Papery
and I love her style. Click the picture below to go to the listing.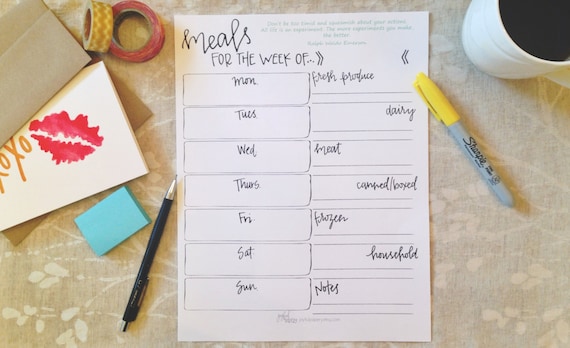 We really only eat three different meals because that's what I know how to cook so it's been pretty easy to start doing this and the grocery list on the side really is enough for what I need! I told myself I would make one of these templates myself, but honestly - let's not hold ourselves back from just accomplishing our goal by making all of these other small tasks that get in the way! This was only $4.00 and seriously everything in her shop is awesome :)
So, finish journals, keep up with bible studies and plan meals - I think that sounds like a perfect way to finish 2014!! :)